Offshore Safety Products and Services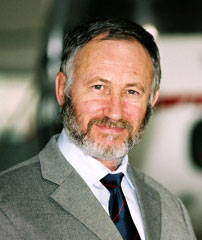 Steve Walters       Offshore Safety Specialist
Born in the UK, 23 years with the SA Air Force as line pilot, accident investigator, Instrument Rating Examiner, Modifications Test Pilot, Cat A1 Flight Instructor, CRM Instructor, Chief Instructor Central Flying School, Staff Officer, Head of SAAF Aircraft Accident Investigation Branch. Flew both fast- and subsonic jets, a variety of pistons, singles, twins, variety of turboprop, some airship, some helicopter. Spent three years in the prototype environment with Denel Aviation, responsible for Certificates for Flight Trials of all prototype aircraft and aircraft systems designed and manufactured by Denel Aviation. Supervised systems safety aspects on all factory projects, ranging from 'Redhawk' Combat Support Helicopter, a variety of fast-jet and helicopter avionics upgrades, weapons systems integration projects, propulsion system modifications, optronics systems evaluations, the development of an airship and the refurbishment of vintage aircraft. Entered commercial aviation, working with offshore helicopter operators, presenting CRM/MRM, conducting operational /engineering audits for a variety of clients (primarily Oil & Gas Producers) and developing aviation SMS. Presented HF/CRM/MRM and Critical Decision Making to over 2000 pilots, engineers and fire crew between 1990 and 2015.
Three years with Shell Aircraft International as an Aviation Advisor, responsible for SMS/QMS development and auditing of AOCs contracted to Shell globally, primarily helicopter offshore operations, then three years as an Aviation Advisor to Petrobras (via Lufthansa Consulting), assisting in the creation of an Aviation Advisory Department for Petrobras, mentoring newly appointed Advisors, auditing, Safety Case development, standards development, SMS and CRM training to all helicopter AOCs contracted to Petrobras. Joined the HNZ Group as Director Safety and Quality, transiting to Director Strategic Safety Development as the Organization grew globally.
In terms of academics, have an advanced degree in Industrial Psychology, current research topics being Safety Case development, Helicopter LOSA and Evidence-Based Training, High Reliability Organizations, complexity in helicopter offshore operations and the acceleration of pilot expertise.